Thunderstake empowers and assists token holders to earn rewards on the POKT network
Thunderstake offers institutional grade solutions for the discerning investor – including account dashboards, reporting, audits and automated token sweeps.
Leverage our infrastructure and skills to offer an excellent white-label solution to your clients
While we accomodate the institutional, we all have connections to the degens of the world. Look no further, we are one.
Trusted Partner of Choice for POKT Staking
Blockchain and request monitoring
Real Time Performance Metrics
Automated Sweeps and Deployment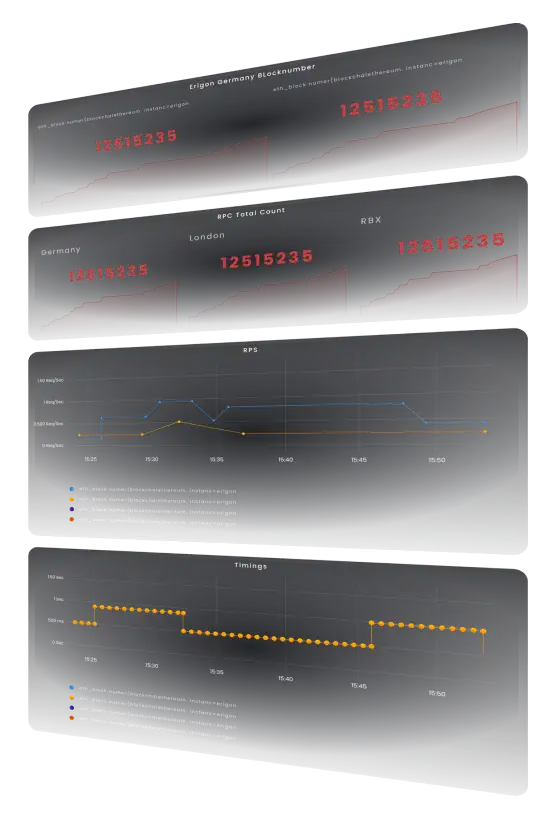 Trust, service, performance. Thunderstake: everything you need to stake in one place.
Infrastructure
We've carefully built an automated system to manage and deploy our infrastructure at scale across the globe. Our nodes are globally distributed across many datacenters. Optimized infra is the Thunder way.
Optimal Rewards
We always monitor for new upcoming chains and popular regions among other factors in order to maximize rewards.
Insurance
We are currently implementing coincover solutions for loss prevention
Data Analytics
The Thunderhead team built PoktWatch. We have an intricate internal solution we use to monitor errors, latency, rewards, and location of all nodes across the whole network. We love analytics.
Reporting
Designed for fund admins and accountants, we can create reports over any time frame for any use case. Need a custom report or metric? We are one request away.
Clara
If you need support, you can contact our team 7-days a week via email, discord, telegram and depending on the weather, smoke signals.
Pricing
We lead the market in innovation and price efficiency
Small Fee and Rev Share
$15.00 + 25% Reward share
This is plan is a combination of flat rate and revenue share
Revenue Share
This plan is a % of the POKT production, so guaranteed profit for you!